As part of our ongoing commitment to cutting the cost of routine veterinary work and fuel emissions we have  introduced a Zone Visit Scheme. One day a week a vet will be available in your area for routine work at a reduced cost to you for the visit. How the scheme works (Terms & Conditions)
We will assign a vet to your zone one day per week for routine work at a fraction of the cost of a normal visit, the price for this depends on how far your yard is from the clinic. For yards under 10 miles drive (ie you would normally be charged a V1 if you had a routine call ) the charge is £15 including VAT (or £11.50 if there are two owners or just £7 including VAT if three different owners book a zone visit at the same yard). You must be flexible and able to accept ANY time from 9am – 5.30pm, in the past people have waited to see if the time suited and if not, cancelled; we cannot allow this anymore as cancellations impact on the timing for the rest of the route (sorry!).
If you are over 10 miles from the clinic ie your normal routine visit fee would be classed a V2, 3, 4 etc then we are happy to offer a 50% discount on your normal visit or shared visit.
The visit can be booked weeks in advance, the latest time being 2pm the day before your zone visit day.
The appointment time is allocated after 4pm the day before your visit and you will need to phone the clinic between 4pm and 5pm to confirm your appointment time.
To qualify for the zone visit, payment for all work carried out must be made at the time of the visit, otherwise a full visit fee will be charged. Zone visits are only available to clients with a zero balance and we reserve the right to withdraw zone visits to any client at any time.
Please note that if you require a specific vet or need in depth investigations a normal visit should be booked.
IMPORTANT: Cancellation charges; a cancellation fee will be charged if you cancel after the route has been done.
Ullenhall area zone visit map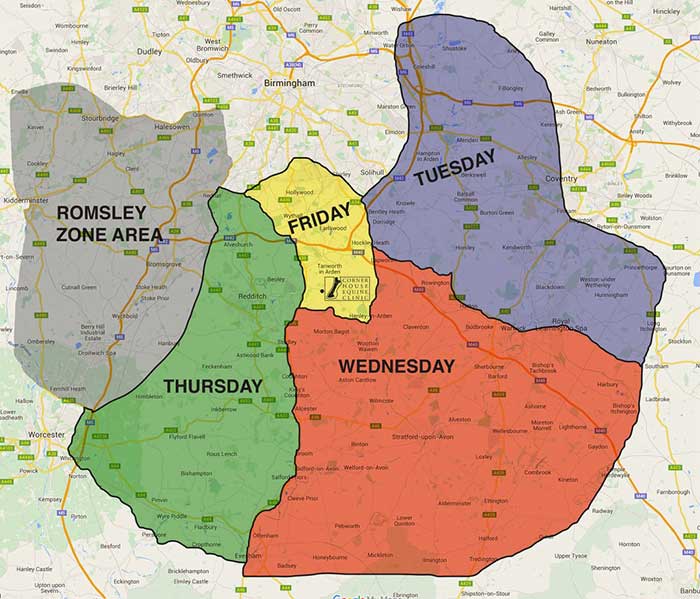 Romsley area zone visit map