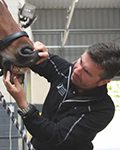 Robert Walsh MVB MRCVS Grad Cert ESM (UCD) Advanced Practitioner In Equine Practice
Clinical Director
Robert is the senior clinic vet, he qualified from Dublin Vet School and since then has worked in Australia, Ireland and more recently in the Cotswolds prior to setting up the clinic in 1999.

Robert has a special interest in investigation of performance problems and was recently awarded a certificate with honours in Equine Sports Medicine from Dublin University.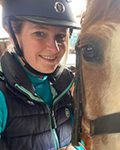 Kate Burman BVMS MRCVS
Veterinary Surgeon
Kate graduated with a distinction from the University of Edinburgh in June 2007. Following graduation she worked at The Minster Equine Clinic in York as an intern and ambulatory vet for 18 months.

Kate started at Corner House Equine Clinic in January 2009, where she is responsible for the care of the inpatients, anaesthesia and laboratory work as well as routine ambulatory work.
Nick Dymond BVSc MA MRCVS
Veterinary Surgeon
Nick joined our team of veterinary surgeons in July 2022. Nick has been busy covering Romsley and Ullenhall zone visits getting to know you all in addition to attending many of the emergencies that we have coming through the door daily.

In Nick's spare time he can be found riding his champion show mare shire horse Betsy. Nick has a keen interest in heavy horse breeds and also enjoys walking his 3 dogs and playing the cello.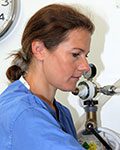 Michelle Lawrence BVM&S MRCVS GPcert Equine Practice
Veterinary Surgeon
Michelle qualified from Edinburgh university in 2003 and worked in mixed practice for three years before completing an equine internship at Chiltern Equine Clinic in Buckinghamshire. She spent six years working in a purely equine clinic in the Cotswolds during which time she attained her GP certificate in Equine Practice. She enjoys all aspects of equine work, but has developed a particular interest in the challenges of equine anaesthesia and pain management. Michelle will soon be qualified to offer acupuncture treatment.

Outside of work, Michelle enjoys riding and is always busy juggling family life.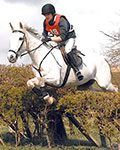 Frankie Tomlinson MRCVS
Veterinary Surgeon
Frankie is interested in all aspects of equine medicine but his passion is dentistry; he is doing an advanced qualification in dentistry and often collaborates with experts from our sister clinics in advanced dentistry procedures here in Ullenhall.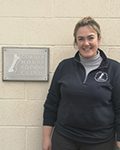 Beth Bromley MRCVS
Veterinary Surgeon
Beth graduated from Liverpool Univeristy in 2019. Before joining Corner House beth has have worked in another CVS first opinion equine practice in Shropshire for 3 and a half years. Beth is currently working towards a certificate in advanced veterinary practice and enjoys medical work ups and poor performance investigations. Beth is looking forward to getting out and meeting you and your horses.

In the little spare time Beth has outside of work Beth enjoys socialising with family and friends.
Rachel Macleod BVM&S MRCVS
Veterinary Surgeon
Rachel graduated from the University of Edinburgh in 2023 with distinction. She enjoys all aspects of equine vet work but is particularly interested in lameness and ophthalmology cases.

Outside of work, Rachel can be found spending time with her own horse and enjoys eventing during the summer.