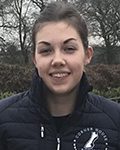 Hayley Woodward
Trainee Veterinary Nurse
Hayley attends Hartpury College one day a week to train as veterinary nurse with the help of our senior vet Kate. Hayley only has a few more weeks of training to complete and she is fully qualified.

When Hayley finds the time she also bakes amazing cakes and rides her horse Barney who is stabled nearby.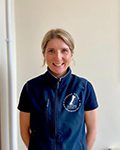 Jessica Nickels
Head Nurse
We are so excited to introduce you to Jess our new Head Nurse - we feel very lucky to have her and I am sure she will be out and about meeting you all Jess joined us in May this year as our new Head Veterinary nurse, having previously spent the last 5 1/2 years in a large equine referral hospital. She completed a BSc (Hons) degree in equine sport science at Hartpury University before studying to become a veterinary nurse. Jess enjoys all aspects of the job but has a particular interest in diagnostic imaging, weight management and patient care.

Out of work Jess enjoys walking her cocker spaniel, Lottie and riding her horse, Jet. She also enjoys trips to the coast and baking!